If your facility seeks a convenient and affordable alternative to sending staff offsite for high-quality phlebotomy education, the Center's Director can deliver a customized in-service or workshop at your facility.
---
In-Services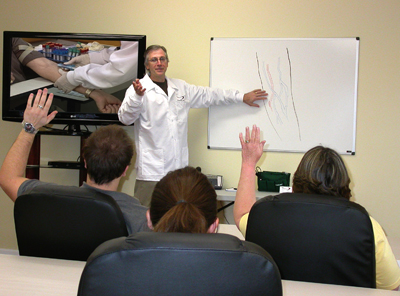 Some suggested phlebotomy presentations include:
Troubleshooting Hemolysis
What's Wrong With Our Potassiums?
Protecting Your Lab From Phlebotomy-Related Lawsuits
Minimizing Preanalytical Errors in Specimen Collection
Products and Practices for Needlestick Prevention
Mastering Pediatric Phlebotomy
Top Ten Preanalytical Threats to Accurate Results
Safety Survey: Are you Safe? Are your Patients?
What Every Phlebotomist MUST Know!
What the Standards Say About...
Hands-on workshops
In-Service Fees:
$1800/day, includes up to four 60–90-minute presentations, plus travel-related expenses (i.e., coach airfare, lodging, ground transportation, parking, meals on location and in transit).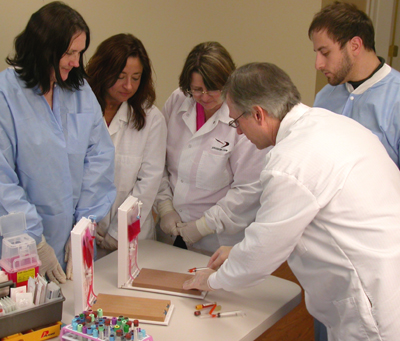 Onsite Hands-On Workshops
Looking for a one-day hands-on workshop with a practical component? Our intense Phlebotomy Workshop provides basic venipuncture training to healthcare professionals who want to be taught with rigid adherence to the standards. The multi-media workshop consists of lecture, video, demonstration, and one-on-one instruction using a training model that simulates a life-like venipuncture experience. This workshop is not a substitute for comprehensive training and does not promise proficiency, but teaches the basics with a hands-on practice under the supervision of reputable authorities in the field of phlebotomy. Workshop duration: 6–8 hours.
Workshop Fees:
Up to 6 participants: $1800 plus travel-related expenses. For more than 6 participants contact us for a quote. To discuss Mr. Ernst's availability please contact us.