Mastering Pediatric Phlebotomy
Drawing blood specimens demands the blended wisdoms of many sciences. It requires a working knowledge of anatomy (to avoid injuring patients during venipunctures), physiology (to understand the effects of hemoconcentration, fasting, posture and exercise on analytes), cryptology (to decipher physicians' handwritten orders), and many fundamentals of physics (vacuum pressure, trajectory, velocity, resistance, turbulence, shear forces, centrifugal force, molecular decay and the effects of time, temperature and light on analytes).
But one of the most important sciences that must be mastered---especially for pediatric patients---is child psychology. Although it may seem easier to move a river than to calm a terrified child, those who understand how fear affects children know what is required to turn the Tasmanian Devil into Prince Valiant.
The phlebotomist performing a child's first venipuncture is in a powerful position to affect how the child views every subsequent venipuncture for life. Make the first experience uneventful and the next experience will be considerably easier for both patient and the collector; but a traumatic first experience can guarantee the next needle event is just as traumatic. Worse, the child could become needle phobic for life.
Most of us have an innate fear of the unknown; for children, this fear is especially acute. Because capillary punctures are far less invasive and can be less traumatic for pediatrics, they should be considered before venipunctures for extremely apprehensive patients. However, when venipunctures are necessary, the importance of addressing and defusing a child's apprehension is critical to success.
Not all parents are skilled at preparing children for the event. They may have detailed the procedure in unpleasant terms, or not at all. Your pediatric patient may have heard of traumatic blood collection experiences from their parents, siblings, friends or classmates, and have come to expect her own blood test to be similarly torturous. Of course, many young patients are well prepared, but those who are apprehensive deserve an extra measure of patience. The approach to preparing the pediatric patient for a venipuncture is age-specific. Because it is beyond the scope of this article to discuss all age groups, we will focus on the difficult age group of 4 years old and up.
Preparing the pediatric patient begins the moment your eyes meet. Children can detect compassion or indifference in your face and body language just as you can read anxiety or complacency in theirs. How well you interpret and react to the patient's state of mind plays an important role in being able to successfully manage the child's experience.
In the case of a blood test, the fear of the unknown can often be defused in less than one minute. Here's how:
The effect of a towering, uniformed authority is intimidating. Establish a rapport with the child by getting down to her eye level and introduce yourself. Ask her if this is her first blood test and engage in kind small-talk with a tone of voice that reflects compassion and caring. The most critical step to defusing apprehension is to walk the child through the procedure step-by-step without showing any supplies or equipment except the tourniquet.
Step 1: In simple terms appropriate to the child's age, explain how the tourniquet will be applied. Approximate the sensation by squeezing the child's upper arm with your hand where the tourniquet might be applied and to the degree it will be tightened. Ask the child to make a fist.

Step 2: Giving the child ownership in the process turns her from the subject of the procedure to a participant in it, and has a powerful calming effect. Point to the antecubital area, explaining that that's where you will look for a vein, then explain that you will cleanse the site with something "cold and smelly." Give her the first of two jobs: to look the other way when you say so. Since witnessing a needle coming toward the arm can unravel all composure, make sure the child agrees. Positioning a poster board with bandages and stickers from which she can make her selection will help provide a distraction.

Step 3: Explain that, after looking away, she will then feel a little "pinch" or "mosquito bite." Give the child an approximation of the sensation by gently pinching the antecubital area. Then assign her second job in the process: to start counting when she feels the pinch. Explain that you will probably be done by the time she gets to 10 and that you will then put pressure on the site for a few minutes and eventually bandage it. This is an important selling point; kids love bandages!
By explaining this procedure, you turn the unknown into the known and the fear melts away. It only takes one minute or so, but when the child knows what to expect, the venipuncture has a much greater chance of proceeding without incident. Of course it remains essential to immobilize the arm during the puncture to prevent unanticipated reactions. Remember, an explosive reaction can lurk just beneath the surface of composure.
Despite your best efforts to calm an anxious child, some cannot be calmed. Should anxiety escalate to a tantrum-like refusal, all hope for an uneventful experience is lost. If a parent is available and willing, assistance may be necessary so that the procedure can be done quickly and without injury. If not, seek coworkers to assist. Under no circumstances should a puncture be attempted on an uncooperative child without the assistance necessary to immobilize the intended puncture site and to protect the patient and collector from injury. But avoid applying restraint forcefully unless it is necessary to protect yourself and the patient from injury. Kids don't like to be restrained any more than adults do. A firm, forceful grip often precipitates increased anxiety and the loss of cooperation. It is best, therefore, to use only as much assistance as is necessary to assure the success of the procedure, and no more. If the patient cannot be restrained without risking injury to the patient or collector, the physician should be notified of the difficulty in obtaining a specimen safely.
Feel free to forward this newsletter to a friend!
Agency Seeking Per Diem Phlebotomists
A nationwide agency is seeking phlebotomists and other healthcare professionals to collect blood and take blood pressures on clients who require their services. Retail Health Network, Inc., based in Southfield Michigan, has regional offices in Denver and San Francisco and provides health screenings and flu-shot programs throughout the US and Puerto Rico to Fortune 500 companies and self-insured clients of many major insurance companies. The agency provides comprehensive wellness, health screening and immunization programs, and administered over 10,000 health screenings and flu shot programs last year. Retail Health Network has a network of over 1,250 offices within the US.
| | |
| --- | --- |
| "We are looking to hire the professionals and pay them close to what they deserve for their expertise, says account representative Nancy Erickson. "By eliminating the middleman we can pay the medical professionals $20/hour for their services. Most of these positions are per diem which would allow the medical professional to continue to work their regularly scheduled positions and earn extra money too. | |
If you are a medical professional that collects blood, competent in blood pressure and skin puncture procedures and interested in becoming part of this health-screening program please contact Nancy Erickson at nerickson@retailhealth.com or call 248-799-8303 x 213. The agency is accepting applications from every area in the United States.
This Month in Phlebotomy Today
Here's what subscribers to Phlebotomy Today, the Center for Phlebotomy Education's paid-subscription newsletter currently in its 8th year of publication, are reading about this month:
Feature Article: If Tubes Could Talk: Interview with a Green Top
Ask the Safety Lady: OSHA consultant addresses these burning questions:

My supervisor said I must tie my long hair back. Why?
Do we need a fire extinguisher in the phlebotomy area, and how often do I have to train my staff on its use?

Phlebotomy in the News: a round-up of articles on phlebotomy and phlebotomists who made Internet headlines in June including these stories:


New York State Removing Phlebotomy Obstacle
Phlebotomist Accused of Molesting Patient
Center Featured in Laboratory Publication

According to the Standards: Checking for hematoma
Tip of the Month: And the Two Shall Become One
On a Personal Note: Not long ago, I learned about baseball's immortality as America's favorite pastime.
Activity: Fill in and unscramble the letters.
CEU questions (institutional version only).
Buy this issue for only $9.95.
For subscription rates and to subscribe to Phlebotomy Today, visit www.phlebotomy.com/PhlebotomyToday.html. The current month's issue will be emailed to you immediately upon subscribing.
Phlebotomy Today Archives on CD
Phlebotomy Today is the only monthly newsletter devoted to specimen collection news and information on the planet. First published in February 2000, back issues are now available on CD through 2006.

Eighty-one issues in all, the CD is searchable by keyword or by individual issue. Avid readers will be pleased to know the CD also includes all of the editor's "On a Personal Note" essays through 2006.

The archives are in printer-friendly PDF format and will require Adobe Acrobat 7.0 to view and print. A link to Acrobat is provided on the CD. Although each issue includes the "Tip of the Month", the printer-friendly version is not included. (The Center is compiling 70+ tips, attractively designed and printed for selective posting and shipped with a durable acrylic frame. The Tip of the Month collection will be offered in late 2007.)

For more information on the archives CD, visit www.phlebotomy.com/Products.html.
Feel free to forward this newsletter to a friend!
Featured FAQ: Discard tube
Question: We are aware that a discard (blue) tube is required when using a butterfly for a coag tube. My question is do we need to discard a tube when using a regular needle for coag and what color tube? We use plastic tubes.
Response: Tissue thromboplastin has never been found to alter coag results when it is the first or only tube drawn without a discard tube. The historical practice of a discard tube for this reason has been based solely on speculation. However, many studies since 1996 have shown that protimes and aPTTs are not affected if the coag tube is the first tube drawn. No study has measured its perceived effect on special factor assays.
Because of overwhelming evidence that now appears in the literature, no discard tube is required when drawing for a protime or aPTT except when using a butterfly as you noted. If you are drawing a special factor assay, it's up to you. If you opt for a discard tube for special factor assays or when drawing with a butterfly, use another coag tube or a plain, non-additive tube.
Each month, PT--STAT! will publish one of the hundreds of phlebotomy FAQs in the growing database of questions and answers available in Phlebotomy Central, the members-only section of the Center for Phlebotomy Education's web site. For information on joining Phlebotomy Central, visit www.phlebotomy.com/PhlebotomyCentral.html.
Specimen Collection Safety: permanently concealing sharps
How much time passes from the instant you remove the needle from the patient's arm to the time it is permanently discarded or sheathed? Disposal or permanent concealment should take place immediately and in one fluid motion after the needle is removed from the patient's vein. Pause for even a moment, and your risk skyrockets. Eliminate pauses in your technique and you eliminate one of the most potentially devastating mistakes a phlebotomist can make in handling needles.
Featured Product: Phlebotomy CEUs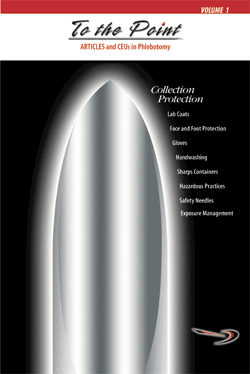 The Center for Phlebotomy Education announces the release of the first in a series of booklets on blood specimen collection titled To The Point™. Volume 1, subtitled "Collection Protection," includes a series of articles that originally appeared in Phlebotomy Today beginning in December of 2005. The eight articles in Collection Protection include discussions on lab coats, glove use, face and foot protection, handwashing, safe practices, exposure management, safety needles, and sharps containers. Volumes 2 through 5 will be released periodically through 2007 and 2008.
Each volume of To The Point™ can be used three ways: 1) as a comprehensive resource in specimen collection; 2) implemented into a facility's in-house continuing education program; 3) as a way to obtain formal continuing education credits to maintain one's certification. Each volume qualifies for 3.0 P.A.C.E.® continuing education credits.
"The 'To the Point'™ series is our response to the specimen collection community's demand for highly accurate and authoritative CEUs in phlebotomy at an affordable price," says the Center's Director, Dennis J. Ernst MT(ASCP). "We've researched each article extensively to be impeccably accurate. Then we priced the exercise to make it the most affordable CEU on the market for phlebotomists who need CEUs, but struggle to find reasonably priced alternatives."
For more information, click here.
The Center is an approved continuing education provider for the ASCLS P.A.C.E.® program in all states including California.