To The Point CE Downloads
Downloadable PDFs containing multiple articles and CE questions
Order any title in this series or the entire set and you'll master what everyone who draws blood samples for diagnostic testing must know. Designed to be easy-reading with graphics and imagery, this series covers key concepts including: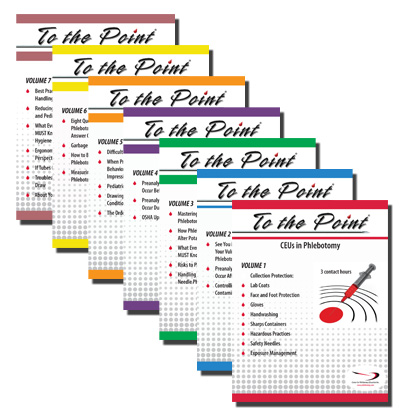 exposure prevention
preventing patient injury
maintaining sample integrity
pediatric phlebotomy
reducing venipuncture pain
handling needle-phobic patients
difficult draws
line draws
the order of draw
professionalism
customer service
...and much more
Use them for inhouse continuing education or to obtain formal CE credit to satisfy your certification requirements.
To receive P.A.C.E. credit: Simply read the material, complete the Test Answer Sheet, and send the answer sheet to us for processing. (The Center will score and process one completed exam per volume purchased.) Within five business days we'll mail or email your certificate, assuming you pass with at least a 70% score. Note:Test Answer Sheets for all test sections and evaluations must be completed and submitted for processing at the same time. Incomplete submissions will not be eligible for CE credit. No partial credit awarded. Failed exams are not eligible for refunds.
For in-house CEs: Distribute printed copies to your staff, retrieve completed Test Answer Sheets, grade exams and file. (Distributing digital copies is against the Terms of Use.) Answer keys provided upon request.
Up-to-date: All material is consistent with current CLSI standards and OSHA guidelines.
---