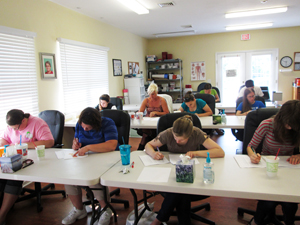 You may find schools in your area by researching the following:
Use the school-finding feature on this page in the lower left column. Although "phlebotomist" is not on the dropdown menu, selecting "Clinical/Med. Lab. Tech." will return schools in your area that may also have a phlebotomy program.
Check with the various phlebotomy certification organizations listed on our site for information on phlebotomy schools they affiliate with that may be in your area.
Check with your local community college or vocational school. They may offer a phlebotomy class.
Contact the laboratory manager or the laboratory's phlebotomy supervisor of your local hospital. These professionals often know of training opportunities in the community.
What to Look for in a Good Phlebotomy Program
Phlebotomy is a very unregulated profession. Outside of California, there are no standards or minimum requirements for phlebotomy schools. Therefore, in order for potential students to emerge with a marketable skill that will meet the needs of local employers, students must know the earmarks of a quality phlebotomy program. The following list contains suggested indicators of a quality phlebotomy program:
A didactic (classroom) component of at least 40 hours and a clinical component (where students draws on actual patients in a healthcare setting);
The didactic component is based on the standards of the Clinical and Laboratory Standards Institute (CLSI);
The clinical component requires students perform at least 100 successful unaided blood specimen collections, including both venipunctures and capillary collections, in a CLIA regulated laboratory;
Upon completing the program students are eligible to take a national certification examination administered by one of the following agencies:

American Medical Technologists (AMT)
American Society for Clinical Pathology (ASCP)
National Center for Competency Testing (NCCT)
(Note: While we believe these to be characteristics of a solid phlebotomy program, the Center for Phlebotomy Education makes no guarantee that programs with these attributes are reputable or that students who attend such programs will emerge with marketable skills.)