Phlebotomy Today eNewsletters
---
Phlebotomy Today is packed with technical articles, tips, product information, and the latest news affecting those who perform, teach, and manage blood sample collection procedures. Sent to you each month by email.
Click Here for a FREE Preview Issue
Features
One full-length article and seven departments and columns:

On the Front Lines---answers to some of our subscribers' most intriguing questions from around the world
Sticks Staph and Stuff---tips and news on infection control and exposure prevention;
Myth Busted---dispelling common myths perpetuated in the phlebotomy community
From the Editor's Desk;
the Empowered Healthcare Manager---inspiration and strategies for those who manage
Product Spotlight.
What's Wrong Here?---A monthly picture testing your powers of observation

Here's some of the features of Phlebotomy Today that keep our readers renewing year after year:

Painstakingly researched to be impeccably accurate;
Reflects CLSI standards, OSHA guidelines, and phlebotomy best practices;
Links to a printer-friendly PDF;
CE questions for in-house use. (Institutional version only.)
---
Code | #4082
Price | $99.00
Quantity in Basket | none

This subscription is priced for individual use only. Forwarding is not permitted.
Code | #4083
Price | $299.00
Quantity in Basket | none

This subscription is for facilities who want the right to forward each issue to multiple employees within a single facility (subject to the limitations of our Copyright Policy). It includes review questions for in-house continuing education.
---
Best Value: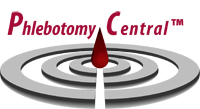 Membership in Phlebotomy Central, (formerly a premium subscription to Phlebotomy Today). This dynamic knowledgebase gives you access to the most comprehensive library of blood sample collection information on the Internet, and includes an Institutional subscription to Phlebotomy Today.
---

Looking for something FREE?
Subscribe to Phlebotomy Today-Stat!