Essential reading for everyone who draws blood samples!
Phlebotomy Today is packed with technical articles, tips, product information, and the latest news affecting those who perform, teach, and manage blood sample collection procedures.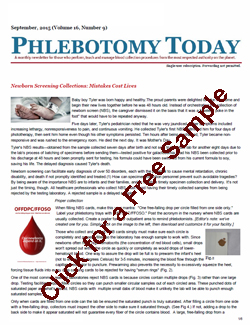 Features
Sent to you each month by email
One full-length article and six departments and columns
Single-user and Institutional subscriptions available
Painstakingly researched to be impeccably accurate
Reflects CLSI standards, OSHA guidelines, and phlebotomy best practices
Links to a printer-friendly PDF
CE questions for in-house use (Institutional version only.)
---
In this month's issue:
Feature: If Tubes Could Talk: Interview with a Green Top
On the Front Lines: Time zone travel and scuba diving
Test Talk: Folate
From the Editor's Desk---Infusion Nurse's Society reverses course
Customer Care Corner: Professionalism = world-class customer service
Product Spotlight: Errors and Impacts poster
What's Wrong Here?---A monthly picture testing your powers of observation
Choose your subscription option below and get this issue immediately.