Phlebotomy Continuing Education Exercises (ATMs): Complete Set (36 modules)
Complete set of 36 Abbreviated Teaching Modules (ATMS).
This is the whole enchilada! Thirty-six modules, enough for THREE FULL YEARS of monthly inhouse CE exercises for you to administer to your staff. (Distribution subjected to our Terms of Use.)
Simply distribute them to your staff, collect the answers to the accompanying quiz, grade, file, and get on with your day. Stop scouring the Internet for mediocre resources just to meet your monthly staff requirement. All ATMs are downloaded in PDF format immediately upon purchase, and includes answer keys.
Nursing departments and educational facilities will also find our ATMs helpful for increasing understanding of phlebotomy-related topics.
Titles include: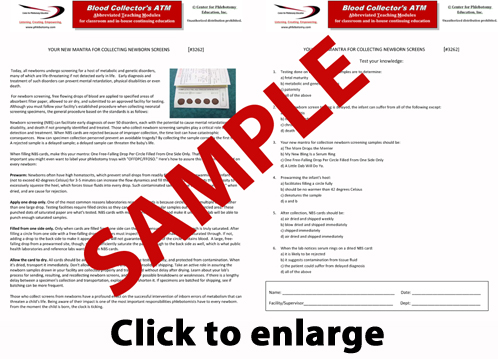 The Order of Draw
Hematoma Prevention
Tourniquet Time
Needlestick Prevention
Hemolysis
Patient Identification
Acceptable Sites for Venipuncture
Blood Cultures Done Right
Tips for Successful Capillary Collections
Hemoconcentration: What is it?
Geriatric Phlebotomy
The Aggressive Patient
Infants and Toddlers in the Healthcare Environment
Drawing From Young Children
Communicating With Elderly Patients
Give Your Patients Their Personal Space
Non-verbal Communication: What Message Are You Projecting?
Bloodborne Pathogens Review
Are You a Pathogen Parade?
Phlebotomist's Guide to PICC Lines, Central Catheters, and Imbedded Ports
Therapeutic Drug Monitoring
Customer Service Excellence
Hand Hygiene in Phlebotomy
Needle Phobic Patients
Handling Autistic Patients
I Stuck Myself! Now What?
How Your Technique Can Change Lab Results
Blood Specimen Collections from Mastectomy Patients
Patient Positioning Do's & Don'ts
Taking Tubes For a Spin
Phlebotomists: The Laboratory's Ambassador
Hand Hygiene & C. diff
Fist Pumping: Just Say "No"
Avoiding Nerve Injury
Your New Mantra for Collecting Newborn Screens
Phlebotomy and the Obese Patient
Looking for a smaller set? Try Series A, Series B, or Series C.
All ATMs are highly researched and reflect the current industry standards and guidelines.