2020: The Year of the Putrid Fish
by Dennis Ernst • December 04, 2020
---
Friends,

All I can say to the year 2020 as it exits our calendar later this month is "don't let the door hit you on the way out."

With only one month left, it already smells like an old fish. I mean, when I think about the events that transpired this year, 2020 really stunk up the place. Consider the following as evidence:
In January, hackers in Singapore stole our company's YouTube channel and uploaded over 300 of their own videos before YouTube took the channel down within a week. It took three months of pleading with YouTube to return it to us, its rightful owner.

In October, PayPal deactivated our web site's payment portal until we implemented a reCaptcha feature, for which they provided not a scintilla of support. We figured it out without their assistance, but it took the entire month to enable online purchases again.

Covid. 'Nuff said.

Election chaos. 'Nuff said.

The pandemic's impact on the filming of the revision of our Preventing Preanalytical Errors video, interrupting it for six months all the while not knowing if we'd ever be able to finish it.
But I'm not a glass-half-empty kind of guy. Let me share the highlights of the Year of the Putrid Fish:

YouTube eventually returned our channel with all our videos and subscribers intact;

We figured out how to satisfy our credit card processor without any feedback from them whatsoever;
Covid has not infected us or anyone in our family;

We completed filming Preventing Preanalytical Errors and are well on our way to completing production (look for availability in February);

We created 14 new Abbreviated Teaching Modules (ATMS) for your in-house continuing education, bringing the library up to 36 (that's three years worth of monthly exercises);

My appointment to the CLSI Board of Directors.

I did not have to spend any nights away from home or endure the frustrations of air travel because of conference presentations;

Helping three outstanding and innovative companies bring/expand their products to/in marketplace in an extremely difficult environment;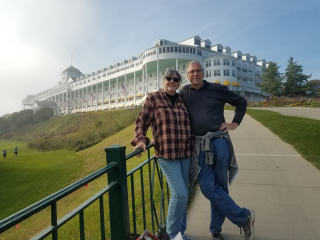 On a personal note, the year has had more highlights than lowlights. My mother turned 95 and has so far been protected from Covid in an area of our state that's been hardest hit; I've completed the construction of a mighty fine wood shed to keep this winter's fuel dry; updating other areas of our home that have made it more to our liking; we were graced with visits by three out of five of our kids and their families; a granddaughter came to live with us in August (for a duration yet to be determined); finding the perfect place for us to worship and grow spiritually; a visit to Mackinac Island; and plenty of canoe excursions on Lake Huron.

Lastly, and certainly not the least of my highlights, both personally and professionally, is another year in service to you. I must admit the challenges in the first bullet list above have made it very difficult to continue my mission to educate in the industry and for the healthcare professions. But the Year of the Putrid Fish is now all but over, and I look forward to a fresh new scent and a calendar full of promise, opportunity, and enthusiasm to assist you to perform, teach and manage blood collection procedures according to the industry standards.

Thank you for your constant support and emails, and the opportunities to serve you. If I can make your professional goals easier to accomplish and your problems fewer in number, I know it might just make your life more empowered and fulfilling. And if I can do that, well then I've done what I left the bench 22 years ago to do. That makes me a pretty lucky man, even in years that end up smelling like an old fish.

Merry Christmas, happy holidays, and happy New Year, to all.

Respectfully,

Dennis Ernst
---
overall rating:
my rating:
log in to rate