The pains of moving our company to another state
by Dennis Ernst • June 18, 2019
---
Friends,
By the time you read this, I'll be in the middle of a real moving experience.
After thriving in Indiana since it's birth in 1998, the Center for Phlebotomy Education is relocating to Michigan. As you know, my wife and I moved to the Wolverine State 18 months ago, but kept the office in Indiana open and under the capable supervision of our office manager extraordinaire, Anita Schultz. Because of the power of the InterWeb, I can develop educational materials, write newsletters, produce videos, maintain business relationships and conduct the myriad activities a Director is supposed to do from anywhere. Filling orders and taking care of customers' needs, however, requires access to inventory. Because Anita wrote the book on customer service, it would have been pure foolishness to replace her with a Michigan equivalent. Besides, one does not exist.
This will be the company's 5th move since opening it in a spare bedroom of our Indiana home in 1998. After 9 years, it had grown to occupy the entire first floor and employ three full-time employees, so we kicked it out. It fit nicely into 1800 square feet of leased office space in Corydon, Indiana. We expanded into an adjacent office in 2009 and opened up our School of Phlebotomy to serve the local healthcare employers with qualified phlebotomy applicants. For five years, we turned those without a job skill into a highly marketable commodity coveted by healthcare employers in the Louisville, Kentucky area. It's among the most satisfying contributions we've made as a company. With the addition of still more employees, we needed additional room and again expanded, moving our inventory and shipping equipment into another adjacent space.
Since closing the school at the end of 2013, we've moved the company three times for various reasons. In July, the Center for Phlebotomy Education will call Mio, Michigan its new home as we move it into 2000 square feet of leased space in a town we've grown quite fond of.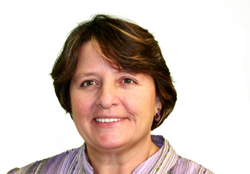 What we're not so fond of is having to function without Anita.
Many of you have come to know her as a kind and helpful customer-care professional. We came to know her as "high-powered talent." In fact, I created a document suitable for framing that defined what constitutes high-powered talent. While others filed it away, never to be seen again or circled what they thought were typos and kept it on their desk for me to notice (true story), Anita framed her copy and hung it near her desk to serve as a constant reminder of attributes she should never stop trying to possess. The funny thing is, she already epitomizes every bullet point on the list, especially the one that read "doesn't think of him/herself as high-powered talent, but is always striving to be."
Anita joined us in January of 2007 when the company still operated in our home and has been with us ever since, setting the tone for a highly professional office environment for what would soon expand into a team of nine employees. Among the many gifts she shared include mentoring team members on turning disgruntled customers into satisfied patrons and happy customers into happier ones.
In her 12 years with the company, she's turned a fair share of bad customer experiences into not only positive encounters, but life-loyal customers. She can probably count the number of unsatisfied customer encounters on the fingers of both hands, and has turned 90% of them around with her charm, southern (Indiana) hospitality, and treat-others-as-you-would-like-to-be-treated approach. That's a testimony to Anita's talent. If there exists a customer whose negative experience she did not convert, I dare say it was not possible.
Many of you have interacted with Anita. Trust me when I say she counts you as one of the grandest blessings of her work. You know who you are, Mary L., Adriana N., Gladys P., Kim F., Joe M., Debby B., Amie B., and many others. She will miss you dearly, as I know you will miss her. I will, as well.
But one does not let someone like Anita just go away. She's become family to us, as has her husband and children. Our friendship will continue. There's a saying that "people come into your life for either a reason, a season, or a lifetime." With Anita, it's a lifetime. Neither of us would have it any other way.
So as I'm having my moving experience, rest assured the transition should seem pretty seamless to you. It's not like I'm going live with Epic or anything; just an address change. I'll be sending out a general announcement by email in the next week or two just to make sure all our customers know to change our mailing address in their systems. Nothing else will change...except that Anita will be applying her high-powered talent to some other company.
They have no idea how fortunate they are about to become.
Respectfully,
Dennis J. Ernst
[email protected]

---
overall rating:
my rating:
log in to rate
Anita Schultz Center for Phlebotomy Education Indiana Michigan relocating