Yesterday was simply smashing
by Dennis Ernst • August 19, 2021
---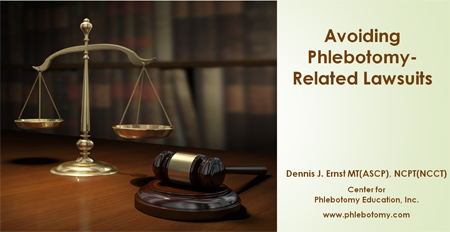 If I had to describe yesterday in one word, I'd say it was "smashing" in many ways, not all good.
First, the good. I had the distinct pleasure of addressing the annual meeting of the Infusion Nurse's Society held in Las Vegas. I did so remotely, which was probably a mistake given the other smashing calamities of the day that never would have happened had I presented in person. That aside, the presentation was, at least for me, a smashing success.
Whenever I can speak to a room full of nurses, I'm more pumped up than usual. That's because I know the information I present will be new to many attendees. Not so much to a laboratory audience. After 22 years of 500+ conference presentations, my fellow laboratorians have had good exposure to my lectures. Not so for nursing professionals.
Yesterday's topic was my most popular: Avoiding Phlebotomy-Related Lawsuits. I presented nine case studies from my files as an expert witness in phlebotomy-related litigation and left the presentation feeling a great sense of accomplishment. It's always my ultimate goal with that topic to immunize attendees from every inflicting an injury during the course of drawing blood that leads to permanent injury and subsequent litigation. By the nature of the questions at the end, I think it was a real eye-opener. It's my guess---and fervent hope---all who listened will be drawing blood differently when they get back to the workplace. Of course, labeling it a smashing success before seeing the attendee evaluations is premature, but I have a good feeling about it.
I wish I could say the same about my big toe.
Before the presentation, I was walking quickly around my yard, not watching where I was going, and soundly smashed it on a rock hidden in the ivy. To say I merely stubbed my toe would not be accurate. I hit it squarely and profoundly. So much so that it's been forcing a limp ever since. I don't think it's broken, but based on the colors it's presenting this morning I can assure you it's highly insulted. I don't cuss, but if there was ever a moment that called for it, that was it.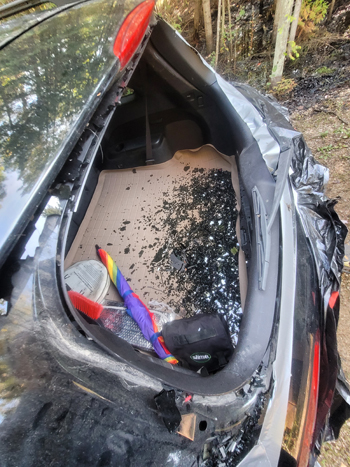 After my INS presentation, I came home from the office to focus on a project I've let go for too long. I had a crew replace all the boards on our deck last week and I needed to remove the old materials from where they had been tossed. That required hooking my trailer up to the car and loading up the scraps. Some boards were 20 feet long, ten feet longer than my trailer, so I had them sticking out five feet from the front and the back. It was just a short 200-yard drive to my barn where I would keep them for the short term, but the trailer was all I had. After loading it up, I realized the boards hanging out in front would likely break the back window of my SUV when the trailer turned, so I decided to move them to prevent an accident. In the process, I lost my grip and they went smashing through the back window anyway. I still didn't cuss, but that's twice now in the same day prescribing such a guttural remedy would have otherwise been indicated.
Of course, all of this was made worse by a sinus infection I came down with three days ago. I was already miserable when I stubbed my toe and even more so when I smashed my window. It all just added insult to injury and injury to insult. But, hey, that's life. At least I had one smashingly good event between the two bad ones.
When I finally limped my purple toe and deflated spirits from the smashed window to the chair at our firepit at the end of the day, sharing with and confessing to my wife on how my day went, it was still overall a good one. Smashing a toe and a window on the same day is still far less than what some people had to go through. Besides, I got to address a conference full of nurses on the one aspect of phlebotomy that could be the most impactful on those from whom they draw blood on from this day forward: preventing patient injury. That right there overcomes the other smashings of the day.
There's one thing about my lectures and materials on preventing phlebotomy-related lawsuits that has been a driving force for me for 22 years. It's that I'll never know how many debilitating injuries my lectures, videos and other content have prevented because healthcare professionals applied what they heard or read. You can't prove something didn't happen that otherwise would have. But there is great satisfaction in knowing at least one patient might have been spared suffering from my efforts, and probably many more. I'm sure of it.
It should come as no surprise to you, then, that this assumption inspired what I refer to as my own personal mission statement many years ago:
"Before I take my last breath, I want it to be that I saved someone from suffering because I took my first."
Of course, had I actually flown to Las Vegas and given the presentation in person, I would never have smashed my toe or window. But then, there's no guarantee I wouldn't have smashed something more consequential. A smashing day is going to be a smashing day no matter where you are. Walking around Vegas with a sinus infection is not a good idea. It blurs your vision. I'd likely back into an ice sculpture or bump into a server sending a tray of food smashing to the floor. And there's always the chance my plane would have smashed into a cornfield or something, so I guess I got off easy losing just a tinted window and a happy big toe.
Between you and me, I'm okay not having any more days I can define as "smashing." It has too many turbulent meanings. As long as I'm not tempted to cuss or can address a room full of nurses, it'll be good enough for me.
---
overall rating:
my rating:
log in to rate
avoiding phlebotomy-related lawsuits damage Infusion Nurses Society injury lawsuit litigation smashing
8 Comments
smashing good article!!
Bruc, 08/19/2021 12:43:24
smashing good article
That was an excellent article. I can totally relate to days like that. One thing for sure though... you are a better man than I!! Can't say that I would have had the same self control...LOL! Thanks for all the Good you do my friend!
Bruce Brown, 08/19/2021 12:46:06
Smashing good article
Thank you, Bruce!
Dennis Ernst, 08/19/2021 13:13:38
smashing day
I've had those very same days Dennis so I feel your pain! Take care buddy and have Catherine give some extra TLC!
Terri McElhattan, 08/19/2021 13:53:27
Smashing day
Thanks, Terri. She's the queen of TLC!
Dennis Ernst, 08/19/2021 15:45:54
Positive perspective
You always have a great perspective Dennis! That's not always easy-- especially with today's landscape. Thanks for the reminder.
Steve Doerflinger, 08/19/2021 16:12:16
smashing day
Thank you for all you do!! I'm sure the nurses appreciate your smashing ideas!!
Cynthia Alpaugh, 08/20/2021 12:20:54