Bet you can't guess what I'm doing now
by Dennis Ernst • February 14, 2022
Phlebotomy News, Editor's Desk
---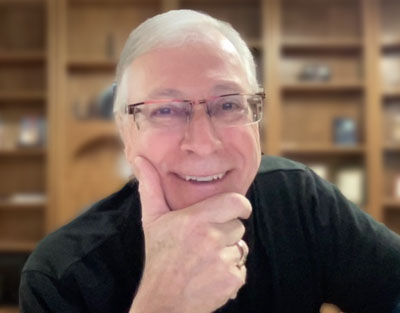 It's been four months since I left the Center for Phlebotomy Education in the capable hands of Shan Keith, my hand-picked predecessor. I'm sure she'd be the first to tell you how the time has flown by. I'd be the second.
Shan has kindly allowed me to post here one last time, so I'm taking advantage of the opportunity to update you on what I'm now doing, and inviting you to join me. First, the back story.
On October 1, when I handed Shan the keys to the phlebotomy.com kingdom, I had every intent to take the off-ramp from the working-life highway and coast to easy living. After running the company for 22 years with nary a vacation to speak of, I was ready to kick back. I thought I had done just about everything I could possibly do in the industry and was, frankly, out of challenges. In my YouTube video "The Guru Tells His Story," I even spoke of kayaking, canoeing and biking the waters and trails of Northern Michigan at long last. Those plans didn't last long.
Late in December, I was offered a position by one of my clients who wanted me to take the lead in steering preanalytical quality. The fact that this was a tech startup intent on disrupting the entire healthcare delivery system made it even more enticing. (Put aside any and all comparisons with the doomed-to-fail Theranos. They never once reached out to me for advice. If they had, I'd have saved them all a lot of grief.) Check out this video posted yesterday featuring Kyle talking about how differently Getlabs was built from the ground up, including a nod toward yours truly.
I quickly realized I had just been presented with an opportunity to do something with phlebotomy I had never done before, something way bigger than even starting my own company back in 2000 and potentially far more impactful. Given the impact my own company had (and continues to have) on tens of thousands of healthcare professionals, maybe hundreds of thousands, this was no small opportunity. I jumped at the offer and am now in my second month as the Director of Quality for Getlabs.

When Kyle Michelson came to me back in 2018 with the concept of a nationalized mobile phlebotomy service, I knew immediately I was speaking to a visionary who was in it for all the right reasons. Too many patients skip lab work and doctor's appointments to their own peril. Telehealth, for all it's promises to fix healthcare, had one great big honking missing link: blood draws. Kyle had great success with startups in the past, and this was his next venture, inspired by his own negative experiences in getting TDMs drawn regularly. I accepted his invitation to advise and consult as he built the company. Fast forward to today and Getlabs is now the fastest growing company in the laboratory industry, perhaps even all of healthcare, with over 100 employees and coverage in almost 50 U.S. cities, up from six just a few months ago. New markets are opening up weekly. When a company with this much explosive potential asks you to help them succeed, you don't tell them you'd rather paddle a canoe.
Now I'd like you to consider joining me.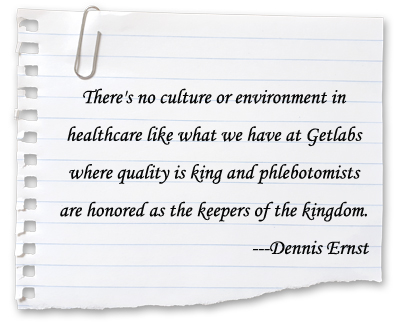 That's because I know you're the caliber Getlabs is looking for: passionate, dedicated to quality, oozing with high-powered talent. I've come to know those traits to be common denominators among those who use materials from the Center for Phlebotomy Education.
Getlabs is on track to provide nation-wide coverage. That means we need the industry's best phlebotomists and managers. Lots of them. There is no better pond to fish for such talent than in the waters stocked by phlebotomy.com. So let this be my official and personal invitation for you to join me in embedding quality in my new home. I guarantee you there's no culture or environment in healthcare like what we have at Getlabs, where quality is king and phlebotomists are honored as the keepers of the kingdom. Seriously, nobody puts phlebotomists on a pedestal like Getlabs does. That's another reason I had to take this position. This company is singing the same song I've been singing for years. They get it... and we want you.
Getlabs is looking for world-class phlebotomists to join our team in 37 cities, and for experienced phlebotomy coordinators nine metropolitan areas. If you're one of the best phlebotomists in the profession and you live in any of the cities on our Careers page (or would consider moving there), please apply. If you don't see your city, keep checking back. It's likely to be added soon.

You know me. I wouldn't be involved with a company that didn't put quality as its highest priority. If quality is in your DNA, too, and you long to work alongside others who have it as well, follow me to the workplace you've always dreamed of. The company is already stocked with talent like yours; you belong among them.
You and I can paddle our canoes later. Today, we have an industry to transform.

Learn more about Getlabs in these recently published articles:
"Getlabs Will Build Out Its At-home Blood Testing Network With 20MM Raise"
"Getlabs Raises $20M to Expand At-Home Lab Appointments Nationwide and Launches API"
"Getlabs: The Missing Piece for Integrated Care."
Respectfully,
Dennis Ernst, MT(ASCP), NCPT(NCCT)
Director of Quality
Getlabs, Inc
www.getlabs.com

---
overall rating:
my rating:
log in to rate
18 Comments
Congratulations
This is very exciting and encouraging news and I would love to be involved in the future.
Tamara J Bassett, MLT(ASCP)cm, P, 02/14/2022 09:33:49
Amazing
A someone both working as an MLT and living in a (Canadian) community with dismal community collection accessibility, this sounds like an amazing venture. Congratulations!
Dawna W., 02/14/2022 10:15:32
Certified Phlebotomist
So is this basically a service for home draws door to door. Didn't really explain what type of positions are offered.
Patricia , 02/14/2022 12:06:52
Mobile Phlebotomy
I love the article, we need more quality people that LOVE putting there best arm forward.
Lurleen Chivrell , 02/14/2022 12:52:13
You just couldn't resist
Retirement...not likely you could just not respect the challenge It was exciting thrilling and you were back in the swing of things
Admit it .. you were board and your knowledge and skills were required and you were honoured to be asked to join
Good luck Dennis Keep in touch
Wini Potter, 02/14/2022 13:11:23
The Red /Light top tube talks
I loved listening to those chats when are you doing more I don't believe I heard what the Lavender Top said
W PoTTER, 02/14/2022 13:13:57
Supplies
How is GetLabs handling the supply shortage? Hospitals and labs are having a hard enough time getting enough tubes, hubs, needles, and PPE.
Holly F., 02/14/2022 13:31:04
Congrats to GetLabs
I have always been amazed how new things are going on. Blessings on your future.
Janet Snoe, PBT(ASCP), 02/14/2022 15:43:23
I must say that this is something we do quite well in Australia. Here we call it Domiciliary or housecalls. I work for Sonic Healthcare whose motto is actually "Quality is in our DNA." Our house call collectors do between 20-30 housecalls a day per collector which include personal residences, Aged Care facilities, Group homes and private hospitals. It is quite well developed here in Australia.
Sue, 02/14/2022 17:17:10
Medical Technologist
You mentioned Theranos. I remember their ads in lab magazines where they claimed to be able to do ~200 tests on a fingerstick. I thought, "How can they DO that?" Then the ads stopped, and I forgot about them. Then, about 2 years ago I saw a review of the book "Bad Blood," by John Carreyrou, about the Theranos debacle, bought the book immediately and read it in 3 days. A page turner! I highly recommend it!
Carol Blair, 02/14/2022 17:40:04
Sounds interesting!
I work for Pathlabs as a phlebotomist, We don't get paid as much as quest or labcorp. And we certainly aren't appreciated like quest and labcorp employees are. It's pathetic! Getlabs sounds interesting, will have to look into this!
Sherry Baun, 02/14/2022 20:20:57
Great news and idea
Great concept. I am interested in being part of this new company. When I selected options for jobs, nothing showed.
Nancy Shaw, 02/14/2022 20:21:39
Such a great idea!
This makes so much sense. What a great complement to telehealth- nice job and of course they couldn't pick a better expert (and super nice person)!
Amy Baxter MD, 02/14/2022 20:23:35
Traveling Phlebotomist
Dennis , I knew you wouldn't sit still ! Phlebotomy is in your blood ( pun intended ) ! Congratulations ! I'll check it out and see if I can send you some phlebotomist your way who are a notch above , fit for that " kingdom "! Yes , total shame on Theranos for not consulting with you - FIRST ! Thank you for your service all these years and may you have more to serve people and God !
Maryam Arnaut , 02/14/2022 20:57:59
Great news and idea
Great concept. I am interested in being part of this new company. When I selected options for jobs, nothing showed.
Nancy Shaw, 02/15/2022 20:32:03
MT Phlebotomy Supervisor
Congratulations Dennis,
What an incredible opportunity. You are the best in the field and any company with you on board with not only thrive, it will flourish and grow. There is no doubting your skill and knowledge in this field and I second Maryam Arnaut about this opportunity to not only serve others but to serve God through them. You have been well Blessed. Keep up the Good work.
Bruce Brown, 02/17/2022 08:42:07