Tech startup raises $3 million
by Dennis Ernst • April 16, 2021
---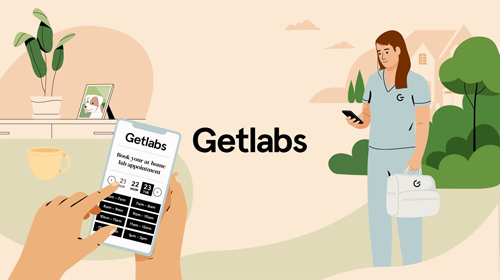 Getlabs, Inc., a Los Angeles-based startup, is launching what promises to be the largest and most ambitious mobile phlebotomy network ever created. And that's just the beginning.
Already active in Phoenix, Dallas, and Philadelphia, the tech startup is one of the fastest growing companies in our industry, providing a dynamic new challenge for seasoned phlebotomists. It's not only on track to substantially change how and where patients get their lab work drawn, but how healthcare is delivered.
Getlabs' timing could not have been more perfect. During a pandemic when most people are experiencing some level of lockdown due to the coronavirus, getting their blood drawn in their own home or office keeps them in the comfort and safety of their own surroundings. Venture capitalists who fund promising startups also see the company as a potential game-changer, not just in phlebotomy but telehealth in general. They've already provided $3 million in seed money to help Getlabs expand.
As you might expect, I was approached by Getlabs' founder and CEO early to provide technical and industry advice when the company was still a concept and long before Covid became a household word. I could tell immediately that Kyle Michelson was not your garden-variety entrepreneur. Nor was he just looking to make a quick buck. His motives were purely humanitarian and based on his own personal experiences about what was lacking in healthcare delivery. He was a visionary with an impressive track record with tech startups and was building Getlabs for all the right reasons. He was the kind of person I wanted to help succeed.
No longer just a concept, Getlabs now has a rapidly growing team of world-class phlebotomists and some of the most gifted developers and inspiring leaders you'll ever meet. It's a company fully stocked with high powered talent.
I'm still advising Getlabs and now leading its Quality Council to ensure quality perpetuates at every level. This infrastructure of quality is what sets Getlabs apart from others providing the same service. Every aspect of the company's activities is galvanized to quality. It's in the DNA of every member of the team. It's that same insatiable appetite for quality that's been getting me up in the morning to serve you---and everyone else who performs, teaches and manages blood collection procedures---for the last 22 years, and will continue to do so. Getlabs is just as driven.
With an eye toward revolutionizing telehealth through connectivity with a robust laboratory sample-collection network, Getlabs is engineering-in quality where others merely pursue it. You'll be hearing more and more about Getlabs as time goes by. Like Covid, I predict it will soon become a household name. Not as a problem, though, but the solution patients and the telehealth industry have been longing for.
If you're one of the best phlebotomists in the profession and you live in Phoenix, Dallas, or Philadelphia, visit the company's Career page and apply. Additionally, Operations Managers are being sought to set up operations in Houston and Los Angeles. Phlebotomy positions in those cites will be posted on the same site when they become available
Learn more about Getlabs in these recently published articles.
"The Missing Piece for Integrated Care."
"Getlabs, An At-home Medical Labs Company, Launches With a $3 Million Raise."
---
overall rating:
my rating:
log in to rate