The most comprehensive library of phlebotomy information on the Internet
by Dennis Ernst • January 07, 2019
---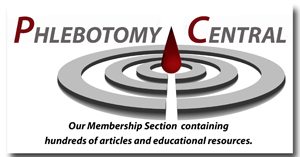 We've been building it for years; now it's enormous. We're talking about the most comprehensive library of phlebotomy information on the Internet with thousands of documents searchable by keyword.
Join Phlebotomy Central and your facility will have 24/7 access to the most comprehensive body of knowledge on blood specimen collection ever assembled online to help you teach, train, and manage specimen collection personnel.
Sections include:
Phlebotomy Today archives--- over 300 back issues going all the way back to 2001;
ATMs---Almost 2 years worth of monthly articles to satisfy your inhouse CE requirement (quizzes and answer keys included). Worth $299 if purchased without Phlebotomy Central membership;
To The Point® downloads – 26 in-depth detailed articles in PDF format covering a wide range of specimen collection topics for inhouse distribution;
To The Point Volumes 1-7--- a compilation of our To The Point downloads into booklets worth $370 if purchased separately. Quizzes included for inhouse continuing education or formal CE credit.
The Manager's Toolbox – a growing list of documents, competency checklists, SmartCharts™, and procedure templates that managers and educators can use to enhance their understanding of preanalytical processes and manage their staff more effectively;
FAQs – Exclusive to Phlebotomy Central members, answers to hundreds of the most frequently asked questions, searchable by keyword or phrase.
It's often been said the next best thing to knowing a fact is knowing where to find it. You'll find it in Phlebotomy Central.
---
overall rating:
my rating:
log in to rate