SteriPath earns coveted award
by Dennis Ernst • September 07, 2020
---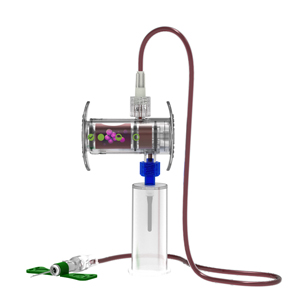 An innovative technology solution for reducing blood culture contamination was recently named as a Best Infection Prevention Product of 2020. The device, Steripath® Gen2 Initial Specimen Diversion Device® developed by Magnolia Medical Technologies was selected in partnership with The Leapfrog Group, an independent nonprofit organization that evaluates health care quality.
The device functions by diverting and sequestering the initial 1.5-2.0 mL of blood collected for culture, which is the portion known to most likely contain contaminants. Blood cultures are then collected through a second independent blood flow path, creating a vein-to-bottle closed collection system.
The selection committee evaluated each product using 4 specific criteria: effectiveness, safety (to both patients and health care workers), successful real-world implementation, and the stability of the company. When assessing safety and effectiveness, evaluations from the Food and Drug Administration (FDA) and the Environmental Protection Agency (EPA) were considered, along with published research studies.
"We are honored to have been selected by Newsweek as one of the Best Infection Products of 2020," said Greg Bullington, CEO of Magnolia Medical Technologies. "We are impressed with The Leapfrog Group's fact-based methodology utilizing publicly available clinical data and independent market research to inform their selections." Bullington concluded, "As a company we are dedicated to providing technology solutions that enable sepsis testing accuracy to reduce unnecessary antibiotic treatment, prevent patient harm and decrease hospital-acquired infections."
The patented Steripath® Gen2 ISDD® is the only FDA-cleared device indicated to reduce blood culture contamination. This exclusive indication was cleared by the FDA based on peer-reviewed published controlled clinical studies demonstrating Steripath's ability to reduce blood culture contamination by 83 and 88%.
Recently, the company also announced an initiative to reset the national blood culture benchmark from three percent to below 1.0%. The "Mission to Zero" initiative challenges healthcare professionals in clinical laboratories, emergency departments, critical care units, and infection prevention teams to pledge to work as a unified team to eliminate blood culture contamination.
"Magnolia is committed to diagnostic accuracy and the prevention of patient harm," said Bullington. "Scientific and clinical evidence proves that we can significantly improve diagnostic accuracy for sepsis testing. This data underlies our commitment to raising the bar for performance nationally with the belief that we as an industry should be targeting zero preventable diagnostic errors."
In 2005, the American Society for Clinical Microbiology established a 3% threshold for blood culture contamination. Since then, multiple peer-reviewed published studies established that a rate well below 1% is attainable with the right technology. Additionally, a multi-discipline consensus manuscript was published in Clinical Microbiology Reviews in January with a call-to-action to establish a new blood culture contamination benchmark of less than 1%.
"We are proud to introduce the Mission to ZERO initiative, empowering all healthcare workers to have a direct impact on helping prevent the risk of patients experiencing a misdiagnosis of sepsis while further enabling driving antibiotic stewardship," said Bullington. "We will achieve this mission through a combination of supporting change in national guidelines and benchmarks, Steripath® technology solutions and a strong partnership with our healthcare community – which begins with each individual patient, healthcare worker and hospital uniting as one team. As a team, we can help stop the significant clinical and economic challenges associated with false-positive blood culture results."
Blood culture contamination has been shown to increase a patient's length of stay up to 3.3 days, add up to $8720 per event, and result in an average of three days of unnecessary antibiotic administration.
---
overall rating:
my rating:
log in to rate
blood culture contamination magnolia medical steripath
1 Comment