3 standards no laboratory should be without
by Dennis Ernst • June 09, 2020
---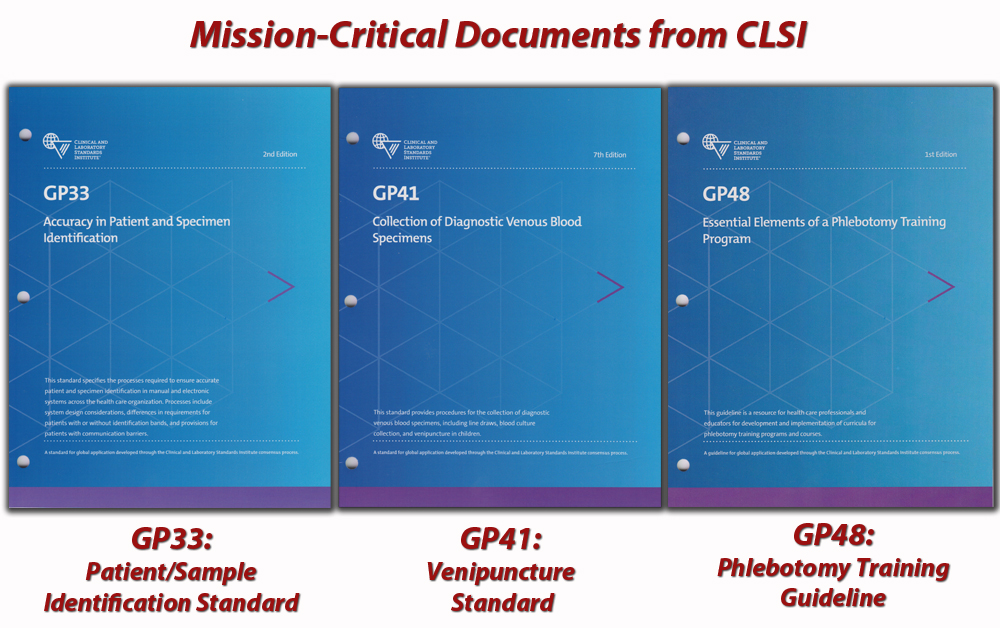 Three documents from the Clinical and Laboratory Standards Institute (CLSI) comprise the bedrock of phlebotomy procedures and training materials around the world.
GP33---Accuracy in Patient and Sample Identification (2019)
GP41---Collection of Diagnostic Venous Blood Specimens (2017)
GP48---Essential Elements of a Phlebotomy Training Program (2017)
Each document is highly referenced and developed by committees chaired by Dennis J. Ernst MT(ASCP), NCPT(NCCT), director of the Center for Phlebotomy Education and editor of Phlebotomy Today.

"Any facility that isn't using this as a basis of their procedure manual is putting them at risk of operating beneath the standard of care," says Ernst. "Users of these documents are more likely to provide patients with a standardized phlebotomy experience, maintain sample quality, prevent patient injury, and release test results that accurately reflect the patient's health status. Not only that, but they have the confidence their procedure manual is based on standards and guidelines established by the consensus of highly respected authorities from some of the most prestigious organizations on the planet."
By special arrangement with CLSI, print and digital copies of these documents are available on the 'Standards" page of the Center for Phlebotomy Education's web site.They are also available directly from CLSI for about the same price.

More info:

---
overall rating:
my rating:
log in to rate
13 Comments