Brand loyalty doesn't come by accident
by Dennis Ernst • March 09, 2020
---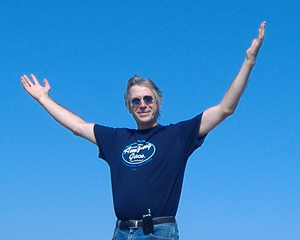 It never ceases to amaze me how many of my readers have been loyal subscribers for most, if not all of the 21 years I've been writing this thing. Likewise for customers who have been buying our educational materials for over two decades. That's brand loyalty, and it doesn't come by accident.

When my wife and I first started the company in 1999, we knew in order to make it work we'd have to create the best materials the world has ever known, price them appropriately, and deliver world-class customer service. That's why producing our very first tangible product way back in 1999, the Ten Commandments of Phlebotomy poster, was a really big deal for us. We pored over every word, color and graphic to make sure it was as perfect as humanly possible. Then we went to print and held our breath in hopes that the first product created by our new company was going to be outstanding and well received by our new market. Our first inventoried product cost us $800 to produce and print, the entirety coming from our dwindling savings account.

When we unpacked it we tossed the entire shipment right into the dumpster.
We couldn't possibly offer it to our customers. The colors were terrible and the text impossible to read without squinting. We were crestfallen. We learned an important lesson that day: always check the color proof. We had our graphic artist do some tweaking and the second printing was vastly improved. It's been redesigned twice since and still a best seller.
It wasn't the last time we had to throw inventory away. Our standards are high because yours are. That's probably why you've been with us as long as you have. You know you're going to get the best product, newsletter and customer service that's humanly possible. When we come to you with something new, even if it's just a new issue of this newsletter, we bring our A-game. It's the only game we have, and it's what you expect from us. It's also what you deserve.
It's also what I have come to expect from companies I purchase from. Just like you, there are companies I'm become brand-loyal to as well. Whether it's house paint, shoes, or donuts, there are brands I'll always trust and then there's everyone else. So I thought I'd share with you some companies I've come to respect and trust as much as you trust us, maybe even a little more. These are not paid endorsements, mind you, but sound advice from someone who's learned the hard way that if you buy something right, you'll only have to buy it once.
Chain saws---Husqvarna. This saw is so good the trees around me beg to be cut down with it. I think they realize that if they have to die, it's a lot quicker than the blight. Especially since I had my "huskie" modified to run on aviation fuel (no joke). Even the hardest hardwood gives way like butter does a hot knife.
Power tools---DeWalt. You can't go wrong with "Big Yellow." Every tool I own from this company stands up to any test I put it through, and I'm pretty hard on my power tools. Unlike other brands, DeWalts are not disposable.
Computers---Origin. I just purchased my fourth Origin PC and will never buy anything else. Made primarily for gamers (which I am certainly not), these rigs are the best and most durable on the market. In fact, if Microsoft hadn't sunset their support for Windows 7 recently, I'd still be using the same Origin I bought 13 years ago. It's been crunching out our videos like an insatiable byte-beast since 2007.
Builders/contractors---Amish. You will never go wrong with an Amish craftsman. Their quality and work-ethic is unmatched, and they'll never cheat you. Same for Mennonite artisans. When we gutted and renovated our Indiana home, no fewer than 30 contractors came and went. Only the Amish and Mennonite craftsmen were dependable, honest, and did quality work.
Red wines---Apothic or Dark Horse. Varietals from these California vintners never disappoint. Life is short; drink the good stuff.
Trailers---Big Tex. I've had my 5x10 for over 20 years now and abused it mighty, often loading it beyond twice its manufacturer's recommended weight limit. It probably has another 20 years left of the same kind of abuse.
Coffeemakers---Cuisinart. I've probably bought 15 coffee makers in my lifetime, mostly cheap-o models from some guy who's first name is "Mister". But my Cuisinart is built to last... and doesn't mind being on a first-name basis with those she serves.
Dog breeds---Great Pyrenees. I'll never own another brand... er, breed. These 100+-pound galoots are as lovable as a dog gets. They're working dogs by nature, but are about the most endearing and protective breed on the planet.
Cameras---Nikon. I've owned many over the years, but nothing compares to Nikon. Before focusing on phlebotomy education, I took thousands of scenic and wildlife photos, placing them in publications, winning juried art shows and framing them for a growing clientele. Nature is beautiful with or without a camera, but my Nikons made me look better than I was. What else do you want from a camera?
Lastly, Phlebotomy educational materials---Phlebotomy.com, of course. Hey, any company that throws $800 of seed money from the owner's savings account into a dumpster because their first product's quality fell short can be trusted to get it right regardless of the cost. Besides, the owner's chain saw runs on aviation fuel. What's not to love about that?

---
overall rating:
my rating:
log in to rate
apothic brand loyalty dewalt husqvarna origin computer quisinart