Dennis Ernst highlights of 20 years of conference presentations around the world
by Dennis Ernst • November 01, 2019
---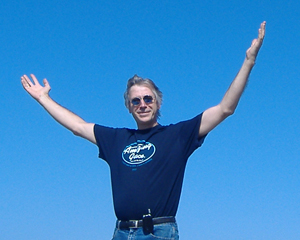 Now that I've given my last conference presentation, my focus can shift from catching flights to catching up... and I have a lot of catching up to do.
Tops on my list is catching up with my readers and colleagues in the industry, but in ways that don't involve cramped coach cabins, long layovers, and hotel horror stories. I've had my fill of all three, but after over 500 conference presentations in almost every state and 11 countries, the joys of being with "my people" far outweigh the tribulations of travel. The good news is that by taking myself off the speaking circuit, I will have significantly more time to serve the phlebotomy community, you in particular.
On average, I spend about 40 hours preparing for each speaking engagement before I even print my boarding pass. Those who recruit me and attend my presentations expect a highly polished, impeccably well-researched presentations. In order to deliver the expected product, A-list speakers have to have a commanding grasp of the material and a comfort level in presenting it that exudes confidence and expertise. That means no matter how many times you've presented the material, you always check every known resource and update your content as needed.
Besides the hours spent on slide prep and notes, I typically spend 5-10 hours per event making handouts that are professional in appearance (readable, graphically appealing with room for notes and a cover page) and booking my airfare, lodging and ground transportation. When you combine the preparatory work with the days spent travelling to, from and at the venue, my investment in time per event averages about 5 days. Conference organizers rarely factor that in when compensating A-listers.
Make no mistake, though, I'm never happier than when I'm with my people. The last 20 years of podium-hopping has taken this once-disenchanted lab rat to places I never dreamed I would ever go, and to some of the most beautiful places on earth. Some of the more memorable highlights include:
Sitting in a hotel lounge in Salt Lake City during a CLEC conference when a woman across the room points to me and shouts "It's him! The man in the movie!"

Having dinner with the CEO of a company exhibiting at a conference when he pulls out my business card from his jacket pocket and uses it to pick his teeth;

Speaking to a grand total of three attendees at my breakout in Hannibal, Missouri;

Speaking to hundreds of attendees at annual meetings Oslo, Norway, Banff, Alberta, and Montreal, Quebec;

Speaking to over a thousand attendees of a webinar on tube handling and centrifugation;

Having an attendee in the front row take a cell phone call during my presentation in Santa Barbara, California;

Dining with friends after our presentations in Portland, Maine when a 4.2 magnitude earthquake rattled the restaurant.

Telling a joke to a friend while my mic was still on, which projected it into the adjacent conference room full of attendees. (Thankfully it was a clean joke!)

Losing my luggage on the train from Vienna to Linz, then losing my voice;

Coming down with pneumonia upon arriving in Austria to speak the next day; speaking anyway;

Giving written and practical exams to all of Aruba's Public Health phlebotomists on the top floor of a luxury hotel with a 360-degree view of the island and surrounding Caribbean Sea;
While I'd love to continue adding to this list, I would also like to see what I can accomplish if I reallocated the time spent as a speaker to other ways to educate and consult. Last year I gave 32 presentations at 12 conferences. If my calculations are correct, that's two full months of preparing and delivering education in person. It's exciting to think of what I could do with that time by connecting in other ways from the comfort of my own office.
Rest assured, I will find ways to continue our connection outside of this newsletter. I'll be exploring ways to set up free monthly video conferences, open forums, or Q&A sessions for all who care to chat about our favorite subject. With the time that gets freed up, I'll be able to create and post more YouTube videos and other media formats in which we can connect. I may be stepping away from the podium, but I'm stepping into ways to engage with you even more.
If things go as planned, more of you will likely be seeing my smiling face, maybe not in person, but through the magic of the Internet. Unfortunately, I won't be seeing your smiling faces as often. because of the limits of 2-way videoconferencing to large groups. But at least we will be able to connect in live webcasts. I suppose there is a bright side to not seeing the attendees I'm talking to. You can answer your cell phone and pick your teeth with my business card and I won't even know it.
---
overall rating:
my rating:
log in to rate