Don't let OSHA catch you doing this
by Dennis Ernst • July 03, 2020
---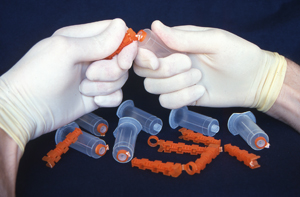 What's wrong with this picture? Please don't tell me you do this. Dismantling the safety features of blood collection devices is dismantling your protection... and maybe even your health.
Even the best safety devices can be dismantled and rendered unsafe (with the possible exception of passive safety devices for which the feature is more integral). Safety devices force us to change the way we draw blood. The change makes us safer and less likely to acquire hepatitis, HIV, or any one of the other diseases you can get from a needlestick.

You may not dismantle the safety features on the devices your employer makes available, but if you are aware that someone else does, bring their actions to the attention of a supervisor who can make a life-saving modification in their behavior.

---
overall rating:
my rating:
log in to rate