When I need lumber, I just go see what washed ashore at Beach Depot
by Dennis Ernst • June 09, 2020
---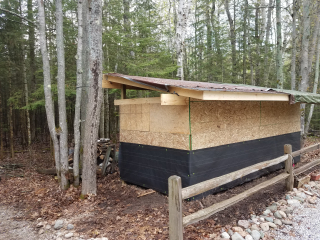 Friends,
When you live in the north woods where the winters are long and brutal, there's nothing like wood heat. Besides, the fuel is free as long as it's on your property and you don't mind working for it. Not that I need to heat the house in June, but the snow will return soon enough so I'd better start stocking up and stacking up. The one caveat with heating with wood is that you've gotta have dry, seasoned wood. To that end, I've been constructing a wood shed to replace the ragged tarp that's been not so good at keeping my fuel dry.
She's going to be a beauty; not because I'm the designer, engineer, builder, inspector and painter, but because grand is my brand. Go big or go home, I say. This shed will be 10' x 20' with a 12/2 architecturally shingled roof made from nothing but the finest materials. It helps that I live right next to Beach Depot.
Beach Depot, that's what we call it, is a stretch of beach about 100 yards from our home on Lake Huron where almost everything a person might need to build a woodshed has washed ashore.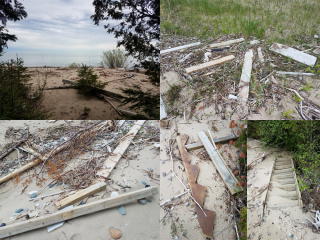 Lake Huron has 3,827 miles of shoreline. With water levels at historic highs, docks and decks are falling into it like canned goods from a grocery shelf during an earthquake. Plucked from who knows where by nature's sticky fingers of erosion and floated wherever Huron's fickle currents please, plenty of it somehow becomes inventory at my neighborhood Beach Depot. And the shipments just keep coming. Not that I revile in the erosion of someone else's waterfront and the floating away of their platforms, ramps and staircases, but finding and notifying the owners of such flotsam in order for them to retrieve it is impossible. So it either lies there littering the sand or becomes part of a woodshed.
The Beach Depot has saved me many trips to the local lumber yard in constructing my shed. I love the nice wide aisles, self-checkout, and the variety. What I like best are the prices (everything is free), the store hours (it never closes), and the lack of competition from other shoppers (I'm the only customer). And you can't beat the selection. I've been able to score 2x4s and 2x10s for my shed so far. all just a short walk away from my construction site. How convenient is that! Oh, and I don't have to worry about wearing a mask and social distancing. Unless, of course, it's the seagulls I need to distance from. But then, they seem to be distancing from me on their own.
If I had the projects for them, I could bring home corrugated pipe, treated 4x4 posts, stringers, deck boards, landscaping stones, gravel and sand, plenty of sand. I only need one project at a time, though---I'm building a woodshed, remember. But when it's done I'll wander the aisles and see what I might be able to construct from what's still there. I'm sure there's something else I need to build. It's just that I don't know I need it yet.

---
overall rating:
my rating:
log in to rate