Quality samples are now possible from line draws
by Dennis Ernst • March 09, 2020
---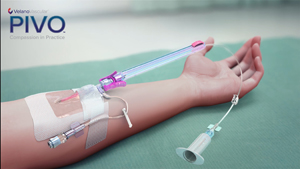 Laboratories in an increasing number of U. S. hospitals and healthcare systems are seeing significantly lower hemolysis rates in the blood specimens their staff are collecting with new technology designed for drawing blood with a single-use, sterile device that advances into the vein through a peripheral IV (PIV).
The technology, PIVO (Velano Vascular, San Francisco, California), is a needle-free blood collection device that attaches to a PIV and is used as an alternative to venipunctures on patients with peripheral lines. Implementation of the technology, aiming to enable "one-stick hospitalization," is getting the attention of healthcare systems large and small across the U.S. as studies emerge showing significantly and consistently fewer hemolyzed samples in addition to other clinical quality improvements, enhanced patient experience, and reduced infection risks.
The device attaches to a patient's existing PIV through its luer connection; the other end enables the practitioner to attach a tube holder or syringe. A narrower and sturdier length of tubing is then advanced into the existing canula and extended beyond the tip of the indwelling catheter, the point where hemolysis typically occurs. Blood is then withdrawn just as with any line draw and the device is retracted, removed, and discarded. Other advantages include fewer venipunctures, more-satisfied patients, higher quality samples overall, and the potential for fewer accidental needlesticks since the device is needle-free.
Recently, Virginia Mason Medical Center (VMMC) in Seattle, Washington implemented a practice change around drawing blood samples from peripheral IV devices using PIVO rather than from central lines by conventional methods. Researchers then compared data on more than five quality indicators including:
• hemolysis rates
• overall laboratory sample defects (hemolysis, clotted, QNS, and contaminated)
• central line bloodstream infections (CLABSIs)
• patient satisfaction scores
• hospital-onset bloodstream infections (HO-BSIs).
Hemolysis rates in the PIVO samples plummeted 69% while overall sample defects fell 36%. The frequency of CLABSIs dropped by 60% and HO-BSIs fell 64%. Press Ganey scores reflecting patient satisfaction with the level of compassion by the person starting IV and the person collecting blood each improved by at least a full point.The results were presented at the 15th Annual Conference for the Seattle Nursing Research Consortium and awarded "Best Poster in Practice Innovation/Quality Improvement Initiative."
VMMC is not the only facility where hemolysis rates are dropping and sample quality is improving for line draws with the technology. Intermountain Medical Center, a 24-hospital system in Utah, evaluated 285,000 IVs and more than 1.3 million blood draws over a 2-year period pre- and post-PIVO implementation and realized a 38% reduction in hemolysis rates and a 56% relative reduction in sample errors. Centura Health System in Denver, Colorado recently saw its hemolysis rate drop 33% for nurse-drawn samples from IV lines. The system estimates the device prevented over 100,000 venipunctures in 2019 and, according to the Denver Business Journal, expects to use 880,000 fewer needles in 2020 as the technology is fully implemented.
The company reports over 1 million PIVO devices were distributed as of the close of 2019, and the signing of distribution agreements with CardinalHealth and Owens & Minor. "We're particularly honored to be selected as the 2019 recipient of Frost & Sullivan's North America Product Leadership Award for Needle-Free Venous Access Technology," said company representatives.
"I think this industry development is a tremendous opportunity for phlebotomists to become more valuable members of the healthcare team," says Dennis J. Ernst MT(ASCP), NCPT(NCCT), Director of the Center for Phlebotomy Education and a strong advocate for the phlebotomy profession. "With their expertise in reducing preanalytical errors, phlebotomists are well suited to be at the forefront of this practice change that's on its way to becoming a best practice."
For more information visit www.velanovascular.com.
Related article: Phlebotomists Taking the Lead as Change Agents. (MLO)
Editor's note: Ernst recently joined the Advisory Board of Velano Vascular, helping the company, and hospitals nationwide, further realize the benefits of this transformational practice.
---
overall rating:
my rating:
log in to rate
2 Comments