Drawing from an IV line with a dedicated device renders higher quality samples
by Dennis Ernst • April 02, 2019
---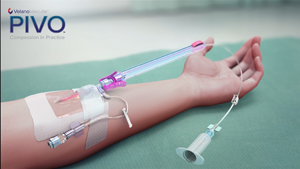 According to an online article posted by Modern Healthcare, patients in the Centura Health System have been spared almost 30,000 venipunctures by having their blood drawn from their IV lines using technology designed specifically for line draws. Last July, administrators at Centura implemented PIVO, a device for drawing blood samples from patients with IVs, at Centura Littleton Hospital as a precursor to rolling out the procedure system-wide .The elimination of nearly 30,000 venipunctures took place over a 6-month period in three of Centura's 17 hospitals.
PIVO, developed by Velano Vascular (San Francisco, CA), consists of a small-diameter canula that the phlebotomist or nurse inserts into the existing VAD and extends further into the vein, past the tip of the indwelling peripheral IV catheter where hemolysis typically occurs. The user then withdraws as much blood as is needed and retracts and discards the device. The vascular access device (VAD) retains its primary purpose, which is to continue infusing fluids.
According to an article in VentureBeat, Velano Vascular's CEO says PIVO "turns an existing IV into a two-way conduit for drawing high quality blood samples." Without PIVO, samples drawn from VADs are widely known to be hemolyzed and rejected by the laboratory. As a result, patients have to be redrawn by venipuncture, causing significant delays in their test results. Faster results are not the only benefit of performing line draws with a device designed for the purpose. Patients at Centura's Littleton, Colorado hospital are recording higher satisfaction scores than before the device was adopted. The Modern Healthcare article reports that answers to a Press Ganey survey question assessing staff compassion administered before and after PIVO implementation showed an impressive 13.4-point increase (71.4 to 84.8).
Since PIVO is a needleless blood collection system, Centura employees using the device reported no blood draw-related needlestick injuries during the same period, marking an improvement in employee safety. Centura plans on deploying PIVO in all 17 of its hospitals by the end of this year.
Velano Vascular was named one of 2019's Ten Most Innovative Companies in Biotech by Fast Company for "making blood draws less painful, and possible without needles."


---
overall rating:
my rating:
log in to rate
hemolysis hemolyzed line draw YouTube PIV PIVO sample quality