Streaming videos around the clock
by Dennis Ernst • June 09, 2020
---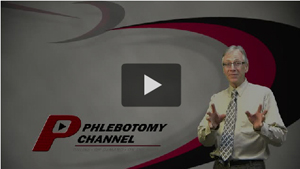 Hardly a day goes by when someone isn't watching a video on the Phlebotomy Channel. In the last two years alone, over 40,000 views were logged by healthcare professionals, trainers, and educators around the world. Are you among them? If not, you should be.
The Phlebotomy Channel is where you can access 17 full-length videos that go way beyond what you'll ever find on YouTube, and far more accurate (unless, of course, you're viewing our YouTube Channel!). The difference can be compared to that between a snack and a meal. Our YouTube channel offers quick bites; the Phlebotomy Channel is a banquet.

Designed for facilities, academic programs and healthcare systems, the Phlebotomy Channel streams the most current phlebotomy training videos to your staff and students flawlessly wherever there's a high-speed Internet connection. If you're currently assembling trainees in one room to watch a DVD, assign them to watch the streaming version at their convenience, freeing yourself to accomplish your more pressing tasks. That's good time management.

Once you subscribe to the Phlebotomy Channel, you'll not only get more productive, you'll get:
Seventeen of the most popular phlebotomy training videos on the planet;

Instant access anytime anywhere;

The most current versions, even when the industry standards change;

An insanely affordable cost-per-view.
See why schools and hospitals around the world trust the Phlebotomy Channel to flawlessly deliver high-caliber training videos on demand. Plus, with real-time tracking, you'll get a full report on who watched the videos you assigned and when. You'll also be able to assess their comprehension with the CE quiz accompanying every title. Start streaming. You'll be amazed how convenient it is.
---
overall rating:
my rating:
log in to rate