Many lab tests can be inaccurate when tested
by Dennis Ernst • July 03, 2020
---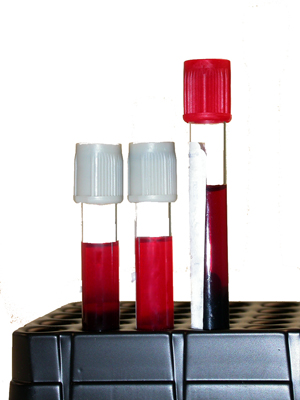 Everyone knows hemolyzed samples can't render accurate test results.(1-4) When tested, studies show the following analytes can be falsely elevated:
Prothrombin time

Potassium

LDH

AST

ALT

Phosphorous

Iron

Magnesium

Ammonia
Testing hemolyzed samples for these analytes may lead to falsely lower results:
Troponin

T4

RBC

aPTT

Fibrinogen

Hematocrit
In fact, it may not even be just the analytes listed above that are altered. When a sample is hemolyzed, the red cells release their contents into the serum/plasma, potentially diluting every analyte the lab might test in the sample.
Since recollecting a sample drawn for stat testing has been reported to delay test results by 56 minutes (90 minutes for routine testing), there has been significant discussion in the peer-reviewed journals on the appropriateness of releasing results from hemolyzed samples with a disclaimer cautioning the physician about interpreting the results.(5)
Recently, researchers in India tested both hemolyzed and nonhemolyzed samples from 25 patients for a variety of analytes.(6) They concluded that testing hemolyzed samples and reporting results for BUN, creatinine, amylase, and lipase was acceptable while testing and reporting phosphorus, sodium, potassium, total protein and LDH provided results that were unacceptably compromised.
In another study, researchers attempted to establish the allowable level of hemolysis for 20 analytes.(7) Acceptable levels of hemolysis varied significantly for alkaline phosphatase (ALK PHOS), alanine aminotransferase (ALT), aspartate aminotransferase (AST), creatine kinase (CK), iron, haptoglobin and high-sensitivity troponin-T. No hemolysis interference was observed for albumin, creatinine, C-reactive protein, and procalcitonin.
Every laboratory handles hemolyzed samples differently. Even a disclaimer warning physicians about potentially inaccurate results due to hemolysis may not be well received by providers who want definitive actionable results. Nor is it in the laboratory's best interest to regularly disqualify their lab reports. Without a clear consensus in the literature on what can be tested and reliably reported and what can't, phlebotomists and their managers are well-advised to implement training and technology to prevent hemolysis in the first place.
References:
Lippi G, Montagnana M, Salvagno GL, Guidi GC. Interference of blood cell lysis on routine coagulation testing. Arch Pathol Lab Med. 2006 Feb;130(2):181-4.
Fang L, Fang S, Shung Y, Chien S. Collecting factors related to the haemolysis of blood specimens. J Clin Nurs. 2008;17(17):2343-51.
Saleem S, Mani V, Chadwick MA, Creanor S, Ayling RM. A prospective study of causes of haemolysis during venepuncture: tourniquet time should be kept to a minimum. Ann Clin Biochem 2009;46(Pt 3):244-6.
Pretlow L, Gandy T, Kenimer-Leibach E, Russell B, Kraj B. A quality improvement cycle: hemolyzed specimens in the emergency department. Clin Lab Sci 2008;21(4):219-224.
Lippi G, Blankaert N, Bonini P, Green S, Kitchen S, et al. Haemolysis: an overview of the leading cause of unsuitable specimens in clinical laboratories Clin Chem Lab Med 2008;46(6):764-72.
Bhargava S, Singla P, Manocha A, Kankra M, Sharma A, Ahirwar A, Ralhan R, Thapliyal U, Mehra P. The Hemolyzed Sample: To Analyse Or Not To Analyse. Indian J Clin Biochem. 2020 Apr;35(2):232-238.
Dupuy A, Bargnoux A, Kuster N, Cristol J, Badiou S. Determination of Hemolysis Cut-Offs for Biochemical and Immunochemical Analytes According to Their Value. Clin Chem Lab Med. 2020 Apr 7;2019-1228.
---
overall rating:
my rating:
log in to rate
YouTube error hemolyzed preanalytical sample quality test
6 Comments