An expensive practice without many benefits.
by Dennis Ernst • July 07, 2021
---
It's a common, but expensive practice. You're drawing a CBC on an ED patient who is complaining to you of an abdominal cramp. The chances that you'll be back in fifteen minutes drawing preops or admission lab work from her is not unlikely. So you decide to draw a rainbow of colored-stopper tubes.

This practice has been reported to cost facilities over $200,000 per year. Whether or not that's worth the time saved is impossible to measure. What's easy to measure is how common this practice really is among Phlebotomy Today STAT! subscribers.
We asked "How often do you draw extra tubes of blood on patients just in case additional tests are ordered?
Fourteen percent said they always draw extras, twenty-two percent said they never did, and sixty-four percent said "sometimes."
Then we asked "In which of the following patient departments or situations do you draw extra tubes just in case?" Not surprisingly, the emergency department was the case for sixty-seven percent of respondents. What we did find surprising is that twenty-five percent of those responding draw extras on outpatients, the one category least likely to have tests added later that require a second draw. Other departments/situations:
Obstetrics: 12.7%

Surgery/recovery: 18.6%

Emergency Dept.: 65.7%

Acute care wards: 14.7%

ICU/CCU: 25.5%

NICU: 1.0%

Psych wards: 3.9%

Isolation patients: 14.7%

Lockup rooms: 6.9%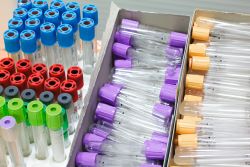 Given fourteen percent said they always draw extra tubes, we wondered how many of those responding work in facilities that actually had a policy on drawing extras. Fifty-seven percent do not. That tells us the majority of facilities do not attempt to reduce the cost of drawing extra tubes. Forty-three percent do. Here are some comments:
Drawing extra tubes on anyone other than ER is the same as drawing someone without orders.

I was trained to always draw extras especially when a heparin is ordered. I was taught to draw a green and lavender as well.

We may hold an extra tube for a couple of hours if the patient insists he needs certain test and we are unable to contact the doctor. If we don't hear from the doctor soon we discard the sample.

It's against our policy.

Our policy is the lab staff will not do this intentionally. If a wrong color tube is drawn accidentally or tests canceled, we will then order it up as an extra.

I currently work in a clinical setting so I do not draw extra tubes. When I worked in a hospital setting I always drew the rainbow when I was sent down to the ER. Also when drawing OB patients I always drew for a possible type and screen.

[I always do] in the Emergency Dept when able. Other areas only if I am aware of patients history and condition.

If a patient is hard to get or has compromised venous access, [I will]. Also if the patient typically gets a specific test and the order may have been missed.

I never draw extra tubes for any situation.

We draw JICs (just in case) on morning or first draw of the days.

On our cardio wing, nurses too often forget to order daily INR's.

[I do] when drawing on patients who are extremely hard draws and have a reasonable suspicion that add-ons are coming, as in changing status of patient.

Anticipated additional tests are a norm here and the doctors get angry if you have to redraw for a test they want to add.
There's no right or wrong to this question unless your facility has a policy. However, in today's healthcare climate, we expect more and more facilities to limit extra tubes as a cost-saving measure.
---
overall rating:
my rating:
log in to rate
collection YouTube ER phlebotomy.com rainbow
2 Comments
CMA (AAMA)/Phlebotomist
I do not understand how this is calculated. I do draw extra depending on the patient and conditions as well as age. I work in a training institution for MD. Not all the time the preceptors for our Doctors catch missed orders. I would draw it,I would call to make sure the either wanted or not. I know it to be our norm, I would call and have them to order proper labs according to our protocol .
Monica Gardner, 07/13/2021 16:38:27