What phlebotomy error is being committed in this image?
by Dennis Ernst • June 09, 2020
---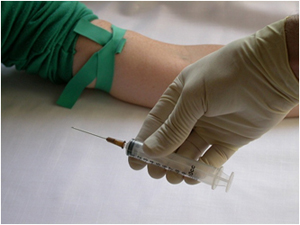 The image depicts a conventional needle, i.e., one without a safety feature. In the United States and countries within the European Union, it's required by law to use only devices with a sharps-injury protection feature.

Putting safety needles into the hands of users is one thing, but getting them to activate the safety feature is not to be assumed. According to the most recent EPINet data, 64.3 percent of all reported accidental needlesticks involving a safety needle occurred with a device that was not activated. Nearly 21 percent occurred with a partially activated device. With the multitude of safety devices available for both venipuncture and skin puncture procedures, unsafe practices are becoming the greater challenge to those who manage specimen collection personnel. Enforcement of the facility's policies on safe practices, the proper use of personal protective equipment, and full compliance with the Bloodborne Pathogens Standard are critical to achieve the lowest exposure rate possible.

---
overall rating:
my rating:
log in to rate