The 3rd edition of Preventing Preanalytical Errors is now available
by Dennis Ernst • March 12, 2021
---
Producing any video during a pandemic that requires filming inside a hospital may seem impossible, but we just pulled it off.
The 3rd edition of Preventing Preanalytical Errors is now streaming on the Phlebotomy Channel and available on DVD. Fully re-scripted, revised, and updated to reflect the current CLSI standards, this video counts down 12 categories of errors that include 40 of those most commonly committed by phlebotomists and other healthcare professionals. Errors discussed within the 12 categories include: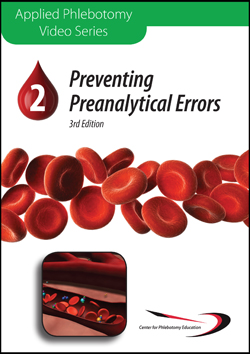 patient misidentification

sample mislabeling

improper mixing

incorrect order of draw

improper centrifugation

storage and transportation errors

errors that cause hemolysis

errors the impact potassium results

pumping the fist

hemoconcentration

combining the contents of two tubes

prolonged tourniquet constriction

contamination from IV fluids

underfilling tubes and blood culture vials

failing to meet test requirements

delays in processing
Written, directed and produced yours truly, I've spent about 800 hours putting all the elements in place for this ambitious project (no joke!) including 12 script revisions, 15 production revisions, two full days of filming on location at two Michigan hospitals and hundreds of hours reviewing and selecting footage. I think you'll love the results.
Highly researched, impeccably accurate and meticulously edited, I wrote the script with emphasis on the impact these errors have on test results and patient care. Not only that, but access to the streaming version Includes access to CE questions for inhouse use and certification maintenance. (Processing P.A.C.E. credit requires an additional fee, but using it for inhouse CE credit is free.)
---
overall rating:
my rating:
log in to rate
dvd GP33 GP41 GP42 YouTube preanalytical preexamination Preventing Preanalytical Errors streaming training video