The industry's gold standard in venipuncture training
by Dennis Ernst • June 18, 2019
---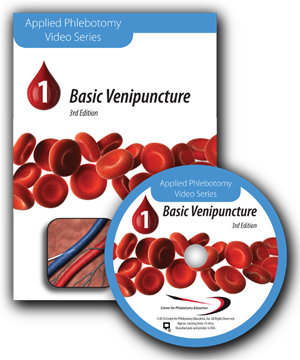 Since its release in October, the third edition of Basic Venipuncture has been adopted into the curricula and training programs of industry's most prestigious institutions.
Our most recent revision replaces the Second Edition, which was released in 2010 and has since become the most widely used venipuncture training video in the industry. Facilities and academic institutions in 20 countries around the world use Basic Venipuncture to train their staff and students to perform venipunctures. The title was released in streaming format in August on the Phlebotomy Channel.
Features of the 3rd edition include:
Completely updated to reflect the newly revised CLSI venipuncture standard;

Completely new script, narrator, and organization of the material;

Filmed in high-definition;

12-minutes longer than the 2nd edition;

Closed captioned by the National Captioning Institute.
"Basic Venipuncture is the gold standard for venipuncture training," says Dennis J. Ernst MT(ASCP), NCPT(NCCT) who wrote, produced and directed the video. "Because of the precise nature of performing a venipuncture and the risks to the patient when it isn't performed according to CLSI standards, this video took 18 months to develop and film, and 15 rounds of editorial revisions before I deemed it impeccably accurate and what our customers deserve from the Center for Phlebotomy Education. It's one of the most polished productions I've ever released."
A preview clip is available on the Center's web site.
---
overall rating:
my rating:
log in to rate