Put the order of draw at the fingertips of everyone who draws blood samples
by Dennis Ernst • May 04, 2021
---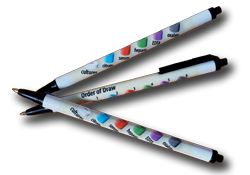 Many of you have long been asking when we're bringing back the Order of Draw pens. That day has finally come.It's been a long journey trying to find a vendor to produce them to our standards, but we now have what you've been craving for in stock and ready to ship.
Managers and trainers looking for an inexpensive but unique educational gift for their students and staff can keep the recommended order of tube collection right at their fingertips. The Order of Draw pen is comfortable and attractive with the order of draw illustrated in full color on the barrel for easy reference. Many studies have proven that when blood collection tubes are filled in the wrong order, test results can vary, sometimes wildly, from the patient's actual condition. Those who follow the prescribed order of draw collect specimens that are less likely to yield misleading test results that impact how the patient is diagnosed, medicated, and managed.
Reinforce the importance of the order of draw with phlebotomists, nursing personnel, medical assistants, the ED staff, and all those who draw blood specimens in your facility by putting this constant reminder in every pocket. The pens are available for immediate delivery in packs of 10 or 24.
(One note of caution to my phlebotomy educators out there. You might want to take the pen away during the exam. Just sayin'.)

---
overall rating:
my rating:
log in to rate