DVD puts customer service in a phlebotomy perspective
by Dennis Ernst • September 07, 2020
---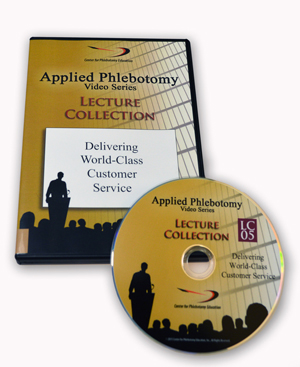 World-class customer service is what every patient expects and deserves. Are you delivering it? Is your staff? Will your trainees and students?
To make sure, the Center for Phlebotomy Education has produced a video teaching phlebotomists and other healthcare professionals who draw blood samples how to make sure every patient encounter leaves them satisfied and confident. Because those who draw blood samples are the laboratory's ambassadors, they deliver the only impression to the patient of what the lab is like. If they are to have confidence in the quality of work that is performed on their blood samples and the accuracy of the test results, the phlebotomist must provide a professional, courteous, and compassionate impression.
Delivering World-Class Customer Service discusses key concepts in customer service excellence in a phlebotomy perspective. Emphasis is placed on telephone etiquette, behaviors that reflect and detract from professionalism, positive patient interactions, and dealing with difficult/demanding patients and co-workers. Positive and negative patient experiences are contrasted to illustrate their impact on the patients' perception of the laboratory, and the quality of care they receive. The presentation concludes with a discussion on how managers can inspire a culture of customer service excellence. The 37-minute, closed captioned video is part of the Center's Applied Phlebotomy Lecture Collection, and is narrated by Dennis J. Ernst MT(ASCP), NCPT(NCCT). Access to online CE questions for inhouse use is provided on the jacket.
More information and a preview.
---
overall rating:
my rating:
log in to rate