Study underscores the increasing risks to healthcare professionals
This blog post summarizes a recent study of verbal and physical violence inflicted on emergency department personnel including phlebotomists by patients.
by Dennis Ernst • July 27, 2021
---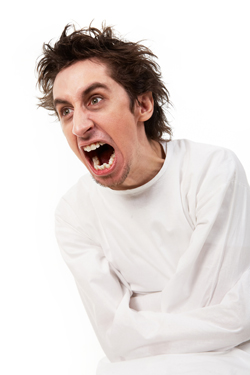 Researchers at the Mayo Clinic recently published the results of a study assessing the extent of verbal and physical violence inflicted upon their ED staff by patients and family members. Seventy-five percent of phlebotomists reported being verbally abused while 17% reported being physically abused. Only 5% of verbal abuse among all personnel were reported at the time of the abuse and 18% of physical abuse. Male employees in the study were more likely to report abuse than female employees.
Security personnel reported the highest level of abuse of any kind (98%) whereas 95% of nursing personnel reported abuse. Ninety percent of clinicians reported abuse.
Incidents of verbal and physical abuse between daytime, evening and nighttime shifts were equivalent. However, incidents that occurred during the day or overnight were more frequently reported than those that took place on evening shifts. The authors shared prior studies attributing the following contributors in the emergency department environment to violent acts by patients and their families:
stress;

long wait times and delays;

crowding;

unrestricted 24-hour access;

low socioeconomic status;

substance abuse;

patients with behavioral health issues;

gang activity;

frequent delivery of "bad news."
With 7 out of every 10 non-security staff members not reporting violence inflicted on them, the authors concluded violence in healthcare remains underappreciated. They stressed that more efforts are required to protect emergency staff and encourage reporting
---
overall rating:
my rating:
log in to rate
abuse clinicians emergency department nurses nursing personnel YouTube workplace violence
5 Comments
Even fellows employee
Thank you that was a lovely article. But lately it is even the employer and some fellow employees that are being abusive. It would be nice if someone blogged about that.
Patricia, 07/27/2021 12:30:53
Even fellow employees
I agree, Patricia. The authors of the article didn't even mention worker-on-worker violence. Bullying runs rampant, especially targeting phlebotomists.
Dennis Ernst, 07/27/2021 12:36:04
Underappreciated Indeed
Having been a hospital phlebotomist for 17 of nearly 19 years in healthcare, I know firsthand about verbal abuse and violence seen by phlebotomists. Unfortunately, I believe it all too often goes unreported. When in a leadership role, I encouraged my phlebs to report it and to talk about it in a safe space, whether with me, a supervisor, or with another trained ear. I know that internalizing a lot of the negatives that can come with caring for patients can lead to poor outcomes such as stress, depression/anxiety, and increased turnover. The best way for me, as an instructor, to address this is to openly talk about it in my phlebotomy classes.
Christopher Connor, RN, CCMA, PB, 07/27/2021 17:57:23
Proactive vs Reactive
My name is Debbie Reasoner and I am the Owner/Director and Instructor at West Coast Phlebotomy a private career school near Portland Oregon.
I teach a variety of subjects in my school and one of them is how to deal with bullies in the Health care system. I make sure they know it is out there but more importantly how to handle those situations so they are not being reactive or over reacting when presented with issues.
I also teach that the angrier the patient the more empathy and compassion is needed. Of course we are not expected to be abused but most of the time it is about NOT being offended by someone who is experiencing trauma In their life.
As far as coworker bullying I tell students that people who bullies are scared and have been hurt so badly that they now have to hurt someone else before they get hurt. I look at them and think how sad to be you and then feeling empathy I kill em with kindness. Bullies need to fight and if you do not respond to them in a defensive mode then they usally move on.
It is sad to have to teach a class on bullying especially in a profession where it should be all about caring and compassion but the struggle is real and it is better to be proactive instead of reactive. I truly believe that "This Is A Career Where Rewards Are Measured By The Lives That We Touch"
West Coast Phlebotomy, 07/28/2021 14:42:05
Increased level of workplace violence
I am a phlebotomy supervisor in Minneapolis and we have seen a dramatic jump in the workplace violence reports by phlebotomist. Prior to the pandemic we arranged to have de-escalation training in our simulation center which staff thought was very helpful. Unfortunately with the pandemic we had to forego that training. Our institution has implemented a once a shift rounds for psychological and emotional assessment of the patients with a color coded dot on the doors to alert the level of support that might be needed for ancillary staff when entering a patient room to provide services
Karen Nelson, 08/20/2021 08:27:31