Phlebotomists deserve some appreciation.
by Shanise Keith • February 11, 2022
---
When a phlebotomist approaches a patient, they know they are about to inflict pain upon that person. It is a part of the job that we have not been able to find a way around yet. There are many ways to reduce pain, but it will still usually be present, even though it is typically minimal. This fact makes many patients dread phlebotomy procedures and dislike phlebotomists in general. Patients don't want to see them or deal with them, they are not always kind or courteous, and they are happy when they leave. This common attitude from patients can increase burnout and frustration for phlebotomists. We know what we are doing is essential, but we don't get the deserved recognition and appreciation.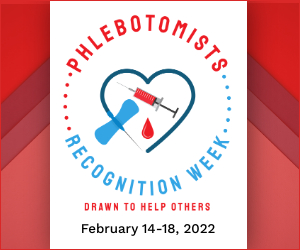 Phlebotomy is an art form that takes practice and dedication to master. A phlebotomist often makes the job look very easy. They collect blood from veins that are not visible while keeping pain to a minimum and protecting sample integrity. They make dozens of careful decisions from the moment the procedure starts to reduce pain and increase the chance of success. They collect samples that will provide accurate results required to treat a patient accurately. They do a job that many people don't like and would not be capable of performing. Phlebotomists are truly amazing.
February 14th - 18th is Phlebotomists Recognition Week. Please take some time to let your coworkers/staff (or any phlebotomist that you know), know how vital they are. The work that phlebotomists do is critically important. This week should be a celebration of the people who have painstakingly mastered the art form of phlebotomy, and often thanklessly perform their work. Let them hear your support and thanks for being a crucial part of the healthcare team.
*You can buy Phlebotomists Recognition Week motivational products created by AMT here. You can also show your phlebotomist pride by sharing social media posts or posting about what activities you are doing to celebrate. Be sure to tag #AMTPhlebotomistsWeek #NationalPhlebotomistWeek in your posts.
Read about how Phlebotomists Recognition Week was created by AMT, a certification company that truly supports phlebotomists.
---
overall rating:
my rating:
log in to rate
appreciation Phlebotomists Recognition Week
3 Comments
Phlebotomy Recognition Week
It's about time !!!
I've been a practicing phlebotomist for 38 years. Finally we are receiving the recognition for our skill and all we do. THANK YOU !!
Christina E ASCP/PBT, 02/12/2022 09:53:08