Phlebotomy reminders belong at your fingertips
by Dennis Ernst • June 07, 2021
---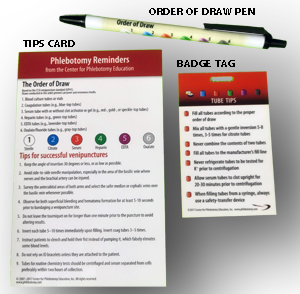 We get a lot of requests for pocket reminders of good phlebotomy technique and the order of draw. Our posters are great, but just try carrying them around in your pockets.
So by popular demand, we've created the Pocket Pack. Perfect for gifting or giving to yourself, this pack puts phlebotomy tips in your pocket, on your lanyard and at your fingertips. Set includes:
Tips card: Keep this durable, laminated compact card handy to have a pocket reminder of key concepts in the CLSI venipuncture standard including the order of draw, and tips on specimen collection. The reverse shows the anatomy of the antecubital area featuring veins, arteries, and nerves.
Order of Draw Pen: The barrel graphic on this black ink pen serves as a constant reminder of the proper order in which tubes must be filled.
Badge tag: laminated and punched for easy attachment to lanyards and ID badges, this badge tag keeps the Order of Draw for blood collection tubes and seven key tips in handling blood samples right where it's needed for easy reference.
ALL POCKET PACK ORDERS SHIP FREE, so if you draw blood samples as part or all of your work responsibilities, or if you teach/manage phlebotomists, the Pocket Pack is an affordable way to put key phlebotomy concepts within reach.
And here's the best part: it attracts a lot less attention than stuffing your pockets with our big honking posters.
---
overall rating:
my rating:
log in to rate
order of draw YouTube pocket pointers posters tips
1 Comment